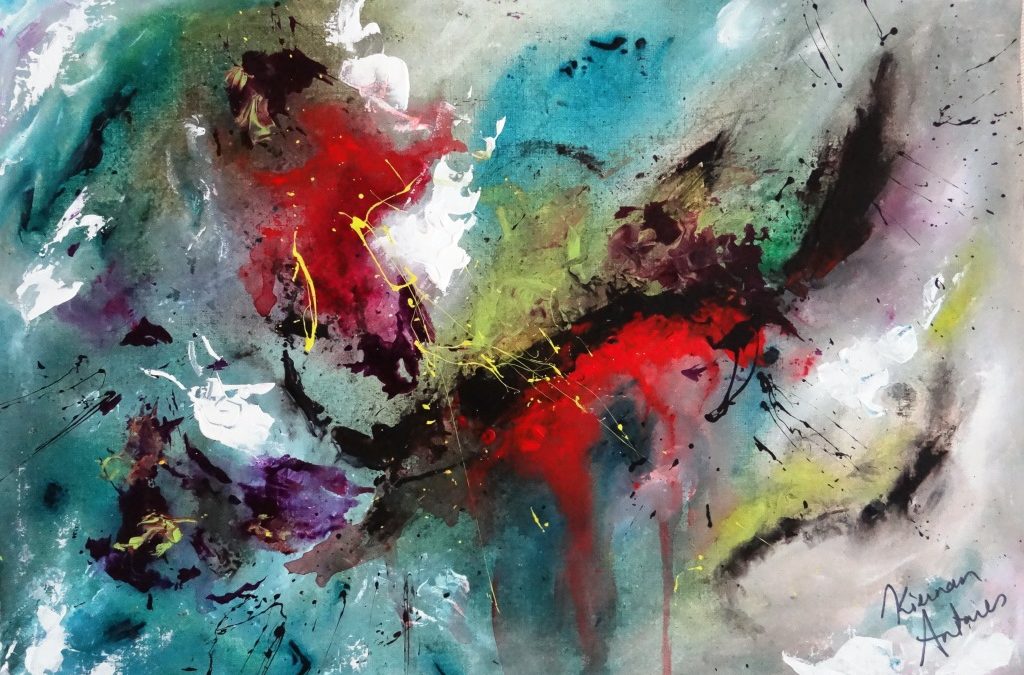 'Morning Glory' was my third of four abstract paintings I did while in France.
My post Thunderstruck by love in France shares snippets of our trip – a very basic overview with also a sense of how I connected with the land and the voice within, while in The Lookout I share more intimately how I was moved to express this voice – claiming more and more of my authentic self.
Our time in France was during a Venus retrograde period; a time of reflection and emotions coming to the surface, and boy did they ever. I experienced some magnetically moving moments of love filled with so much grace as I connected with this land and my heart, but there were times it took some really low low's to overcome to get there.
It was so indicative of this whole year, powerfully transformative, love and gratitude, mixed in with a whole lot of challenging and overwhelming moments.
It's interesting that when I posted a work-in-progress photo of this piece on Facebook, the responses back indicated that they felt it was a depiction of a sea or ocean – very watery. My reaction to that was, 'no no – it's not finished then' because to me it held more elements than just water, which represents our emotions.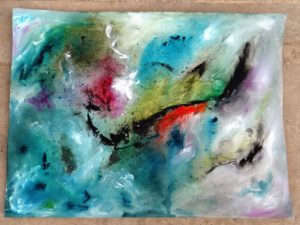 It needed to be touched or balanced with more depth; from Above and Below – a processing to move the emotions into something of more substance.
Here's another view of Morning Glory – as it was drying with the sun shining upon it. The colours look richer here probably because of the dark stones reflection around it. Hmmm… I see a hummingbird in there, reaching for its nectar…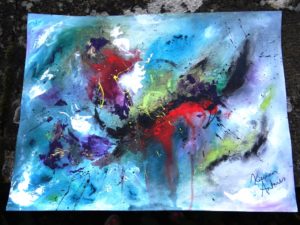 "The hummingbird spirit animal symbolizes the enjoyment of life and lightness of being." ~ Spirit Animal

~ Morning Glory by Kiernan Antares ~

Awaken me, oh Morning Glory
to the essential harmonies of nature,
inspire within me a renewed sense
of soulful enthusiasm
and I am yours for the taking.

My offering to the seen and unseen…

May my shimmering brilliance and vitality
spread light like a flowering vine,
In radiance,
I speak my truth, I live my dreams,
I am Vibrant, alive, and fully seen.
~ Morning Glory by Kiernan Antares ~

Abstraction on Canvas Paper, 12″ x 16″
Click here  to request purchase information
Copyright 2015, Kiernan Antares, All Rights Reserved