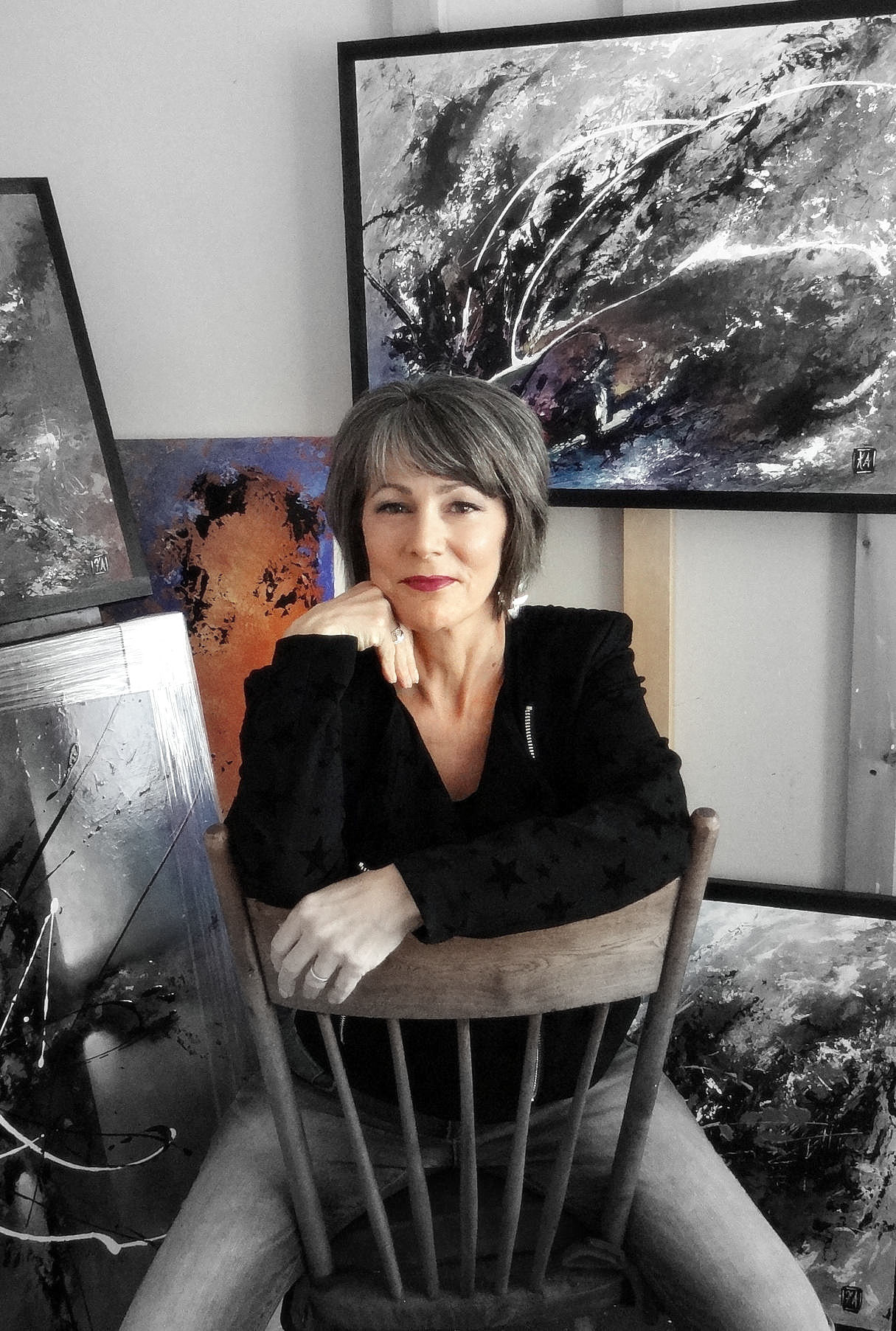 Writer ∙ Editor ∙ Coach
KIERNAN ANTARES is a writer, editor and coach helping people to write their stories. She is author of the novel Phoenix Star, Associate Editor of the Raconteur Literary Magazine, on the editing team of Illumination Publishers, and is the Founder of the Inspired Writers Group. Her work has been licenced by Blue Angel Publishing and featured in Centerpoint Magazine, Indigo Sun Magazine, Journey of the Heart, and Awakening Women Institute.
Antares is also a poet and an award-winning artist. Her works are described as poetically beautiful, alive, and bold—filled with revelations that stir powerful emotions and feed hungry hearts. Her art is in collections around the world.
Where I'm From
I am from under a crab-apple tree,
from tangy tart and pink-purple blossoms.
I am from the basement,
weaving spotted spiders and hidden candy bar wrappers.
I am from safety,
and fear
kept swallowed and chewed,
broken and bruised.
I am from torment and gunfire,
valour and strength.
I am from protection,
and throttled regrets.
I am from jingle bell shadows,
butter tarts and fudge,
and silver dollar coins.
I am from driftwood,
birdsong and smoky booze,
from fishing boats, islands,
and crossing seas.
I am from cast outs and typing pools,
from Be quiet!
Be a pilot!
Conquer the world!
and What are you doing,
nothing?
But I am also from so much more—
than the eye can see
the heart can remember
and the mind can fathom.
For down the way was a church
where I once visited,
glory and grace entered me there.
Shrouded in dreams,
would one day reveal.
I am from those moments—
So tender and true—
a seedpod—
of moxie and magnolias
bursting in belonging.
Word Upon My Soul
What is the word upon my soul,
the pen
the colour
the brushstroke
that begs everything to come alive
with the beating of my heart,
the blood coursing through my veins,
the in and out of breath,
that was shallow… lifeless
before You called me,
before You spoke my name.
I turn the pages of my past
and I see brokenness,
in the midst of hellfire
tender hearts cry out,
the eyes say it all.
What is the story that wants
to be written.
With arms stretched out,
my head slumps down…
What voice beckons
to be heard.
Can I take what's hard to examine
and make beauty of it.
Will I see You
there beside me
through it all.
Through Your eyes
will I see.
Through Your ears
will I hear.
Through Your heart
will I feel.
Promise me You'll not let me
wander.
Promise me You'll not let me
waste, while and whither
life away,
always learning and never knowing
You.
What needs to be asked.
What needs to be seen.
What needs to be heard
in the word upon my soul.
One Simple Word
In a world of words, I want just one.
Just one that jumps out and claims me.
One that tells a story within a story.
One that speaks to the deepest darkest depths…
of the heart of this writer's life…
the word that makes sense
of the wild and crazy journey I've been on.
The word that has compelled me,
sent me out into the world to find its meaning,
because it existed inside of me
before I understood it…
and then went into hiding,
but always… always it was there.
A word that has taunted me
to seek it in the daily grind,
in the excruciating pain that consumed me,
and in the beauty of fleeting moments
that I believed were sacred… but,
discovered haunting loneliness instead.
Through ugly loves,
choices of spirals that were misguided
and flawed,
because I believed in the lies that were not real,
but acted against everything
that on some level I knew was right.
Through beautiful loves too…
loves that have given me hope
in the seeking of a sustaining truth.
A word that sums it all up
and turns it all upside down…
inside out…
makes it all right in the soul…
in the breath…
in the wings that hover and protect.
In the loving eye
that has always kept me in sight…
in the uttering of the word…
in the qualities of holy…
of the holiest of holies whispering.
In the gentlest of breath
uttered by my ear
and fluttering along my cheek
that it makes me quiver.
A waft of it swirling up into my mind,
down into the ventricles of living life
pulsing with particles expanding…
drawing me somewhere closer
to the only known that matters.
Your Voice
I hear your voice
down to my soul
you tell me things
I've longed to hear.
You've weathered my
dark places
the ink stains in my bones
the painted pictures of brokenness
and loved me all the more.
You fleshed out beauty
inviting us
to walk into its
rhythm.
With a lifetime of days
on the horizon
let's dance the breath
that carries us
along the ruby odyssey
kissing us delicious.