'Mountain Pride' is an abstract piece I painted during my stay at a chateau in Moire, France. In my post 'The Lookout' I describe what it was like to take in the lay of the land; the richness and aliveness of it, and how I processed it into paintings, so I encourage you to read it.
It's not uncommon for me, and perhaps other artists, to be inspired or influenced by events or experiences that have yet to happen. I believe that was the case in painting 'Mountain Pride'.
At the end of the day when I uploaded my photos, something struck me as interesting. Now, with an eye for seeing the unseen, I immediately connected my painting to this photo I took of a good friend, who we traveled with in France. Doug, or Shaggy as he prefers to be called, is quite an interesting character and one of the kindest and most considerate people I know.
Can you see him in this painting? I kept this impression to myself, until I posted the painting on Facebook and left a comment for Shaggy. Happily, yes, he did see it and is adding this piece to his art collection!
So, why would I paint this? What was I thinking or feeling at the time? Sadly, I did not write down what specifically I was experiencing during its painting, but I do remember that I was filled with grace. I do remember that Shaggy and I shared a common bond of basking in the sunsets and alerting each other to possible beautiful shots awaiting.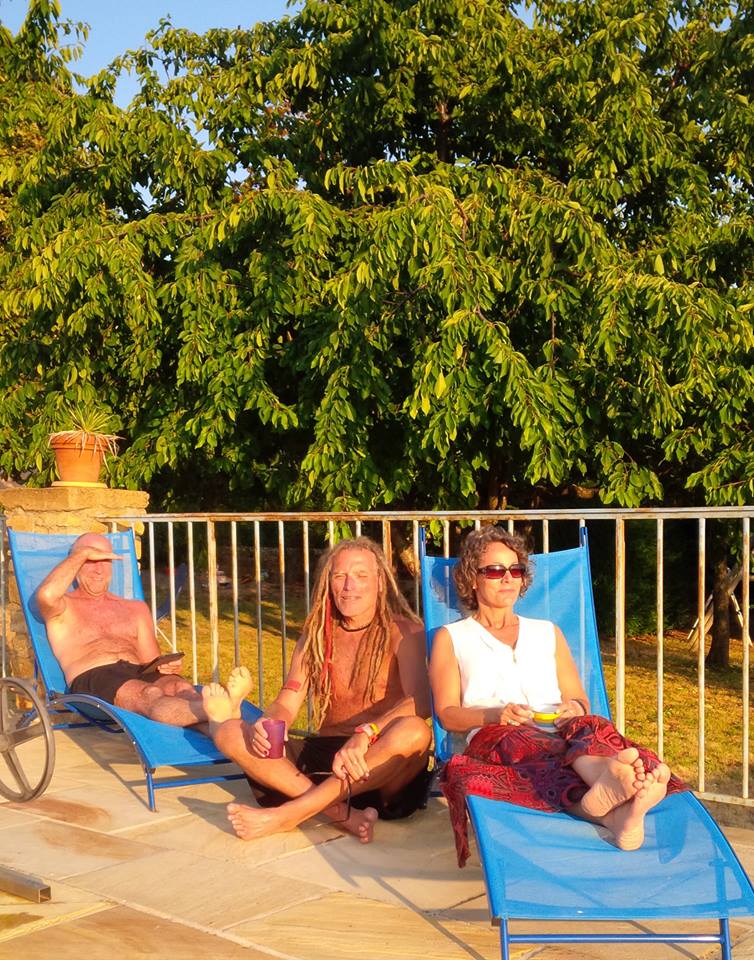 I do remember that we also shared some quiet contemplative mornings together, separately but in each others space, so to speak, with coffee, journaling, and enjoying the fresh air. I do remember a nice talk about life at a cafe in Paris together.
And, I do remember connecting deeply to the spirit of the land and the human spirit, and on this trip there was an abundance of loving kindness, camaraderie, support, cheering each other on in triumph and being there when things got tough.
Now, of course this painting has an element of cosmic connection, which I think is perfectly perfect for my reflections on this piece and its relationship as or to the Yogi Warrior:
"Here is where you live. Come inside.

Touch what is not, and then this is.

Raise dust in both worlds.

Then the going goes the same:

Pain, difficulty; peace, pleasure.

But you are beyond those four,

Beyond the winding way."

~ Rumi
You are the Yogi Warrior and you carry the Medicine Way within you, for you walk in reverence to the preservation of all life, as you pursue your heart's calling – your destiny. A yogi warrior knows his purpose in this life. He knows how to utilize his talents and abilities in service to the greater good and when he fuses his passion with selfless service, he inevitably becomes a teacher, leader, guide, and mentor to others on their journey.
The great mountain and the zenith sun remind you of the goals you wish to accomplish. Mother Earth opens her lands for you to walk your noble journey.
~ Mountain Pride by Kiernan Antares ~ SOLD

Abstraction on Canvas Paper, 12″ x 16″
Copyright 2015, Kiernan Antares, All Rights Reserved